Dump truck causes power outage in Evans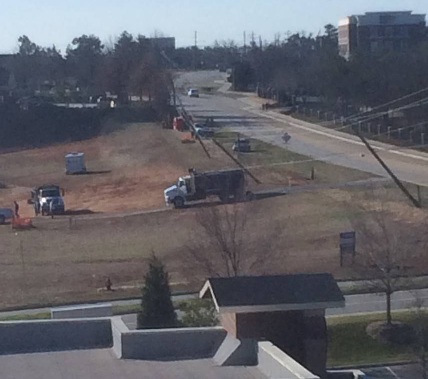 This photo was taken from the top of the Taxslayer building. (Source: Pam Tucker)
EVANS, GA (WFXG) -
A dump truck hit a power pole in Evans Thursday morning and caused a power outage, said Pam Tucker, EMA director for Columbia County. 
The driver of the truck was unloading gravel at the entrance of Marshall Square where the rain had caused muddy areas. The space is set up as a staging area for debris removal crews working to clear tree limbs downed during the ice storm.
Georgia Power restored power shortly after the incident, Tucker said. No injuries were reported.
Copyright 2014 WFXG. All rights reserved.
Read More: No tags for this article
Georgia News
Get the latest Georgia news, sports, weather, entertainment, business & political news and more from Georgia Newsday.
Photo Galleries

PHOTOS: Plastic Surgery Celebrity

Awkward family photos

UPDATED: Faces of Meth

PHOTOS: Celebrities all a-Twitter